I'm not exactly sure how or when we came up with the idea, but my friend Johnny X and I decided we were going to attempt a straight through pull from Pittsburgh, PA to Washington, DC via The Great Allegheny Passage/ C and O Canal trails (GAPCO). It had been done before—I'd read about folks who had completed the trek in the past so I knew we weren't the only crazies out there.
For those who don't know, the GAPCO trail is a phenomenal trail resource. The GAP portion of the route runs 150 miles from Pittsburgh, PA to Cumberland MD where it meets up with the C and O Canal for an additional 185 miles into Washington, DC. Located along side scenic rivers, traversing through several different types of ecosystems and trail towns, and through historic railroad tunnels, the GAPCO Trail is absolutely spectacular. (Trailtowns.org)
We took advantage of longer days and warmer temps and planned our trip for June from Point State Park in Pittsburgh. Fortunately, we had some friends who volunteered to shuttle us on both ends and didn't need to worry about stashing vehicles anywhere (AMTRAK does offer a ride from DC to PITT and you can take your bike on the train—just an FYI). We had our buddy Mackey drive us up the night before so we could get a good night's sleep before departing the next morning. He had dinner with us and hung out in our room before heading back to Davis. It was at this time we realized we didn't want to haul our street clothes with us on the trail—nor did we have room for them in our bags—therefore, it was either log more chamois time or sit in the room awkwardly wrapped in a towel. I really think hotels should splurge for oversized towels…just saying.
Our gear list was minimal. We weren't planning on camping so no stoves, sleeping bags, tents, etc. We also planned on grabbing some food along the way. I packed roughly 7000 calories consisting of as much "real" food as possible. I'm not a fan of relying solely on energy bars and the like. My go-to is usually beef jerky and peanut M&M's. Throw in some peanut butter crackers and tuna pouches and you get the idea. I also brought along a lightweight rain jacket, capilene long sleeve shirt and capilene bottoms. I had a space blanket, small first aid kit, two handle bar lights (one 1100 lumens and one 400 lumens), a headlamp, battery bank charger, cell phone, Garmin GPS, and the necessary "bike repair" kit. And that's about it! Who knows what John packed—he's weird and is super minimal and doesn't eat.
We took off from downtown Pittsburgh around 6am on June 6th. Getting out of the city can be a bit tricky. Maybe I'm not good at navigating but getting from Point State Park and onto the official GAP trail is difficult. However, we picked our way through the streets and were on our way. Somewhere about mile 50, I tanked. I mean, I absolutely fell apart and wanted my mommy. I immediately started texting Mackey to see if he could come get me. I was a mess. I knew I would be circling the drain a few times throughout the ride, but I didn't think it would be this early. Luckily, we found a Sheetz, snagged our first of way too many MTO sandwiches, and I began to pull it together after another 20 or 30 miles of riding.
To say that was the only time I bonked, would be a flat out lie. Balancing caloric intake vs. energy burned was the toughest challenge throughout the entire ride. Drinking before you got thirsty and eating before you were hungry was the key to making it 335 miles. We made 4 stops at various Sheetz stores along the way. I pretty much got the same thing at every stop—orange juice, Gatorade, water, iced coffee, a steak and cheese sub or breakfast sandwich, and fritos. I haven't eaten at a Sheetz since.
We rolled into Cumberland around 7pm and were able to catch up with Hutch at Cumberland Trail Connection—a great bike shop right at Canal Place. Pushing on, we knew further down the trail the Paw Paw Tunnel was closed for maintenance. That said, we arrived there sometime after midnight and were treated to a 45 minute detour/hike-a-bike up over the mountain before continuing on down the C and O Canal. I've never taken any hallucinogenic drugs before, but I imagine what I experienced during the wee hours of the night was similar to tripping on LSD.
The Sheetz in Hancock, MD at 4am was another welcomed sight. After my usual order, we pushed on. Unfortunately, this time the calories never kicked in and Mega-Bonk number 2 hit me. I just needed to lie down. I told John I needed a quick catnap so we each wrapped ourselves up into a space blanket burrito and slept on the trail for what seemed like only 2 and a half minutes (I wasn't keeping track of time at this point but I do know we started back on the bikes before sunrise). Fortunately for us, our kinda cool /aspiring ultra-runner/smartass friend Katie was waiting for us in Harpers Ferry, WV with pickle juice, cantaloupe and water. If nothing else, it was nice to talk to someone who wasn't imaginary or my riding partner. Thanks for being there Katie!
My dad was a little further down the trail with a breakfast sandwich that wasn't from Sheetz. It was the best damn egg sandwich I have ever eaten. A familiar face and homemade food can easily get you down the trail 30 miles or so. From here on, it was smooth sailing—we could smell the barn. By far, the last 50 miles were the easiest.
So, after 343 miles, well over 10,000 calories, no major mechanicals or cramped muscles, 27 hours in the saddle, and 35 hours start to finish, we rolled quietly into DC. We called our buddy Darrel and he came right over to pick us up from the Thompson Boathouse. We grabbed a quick shower and some food and headed back to Davis, WV.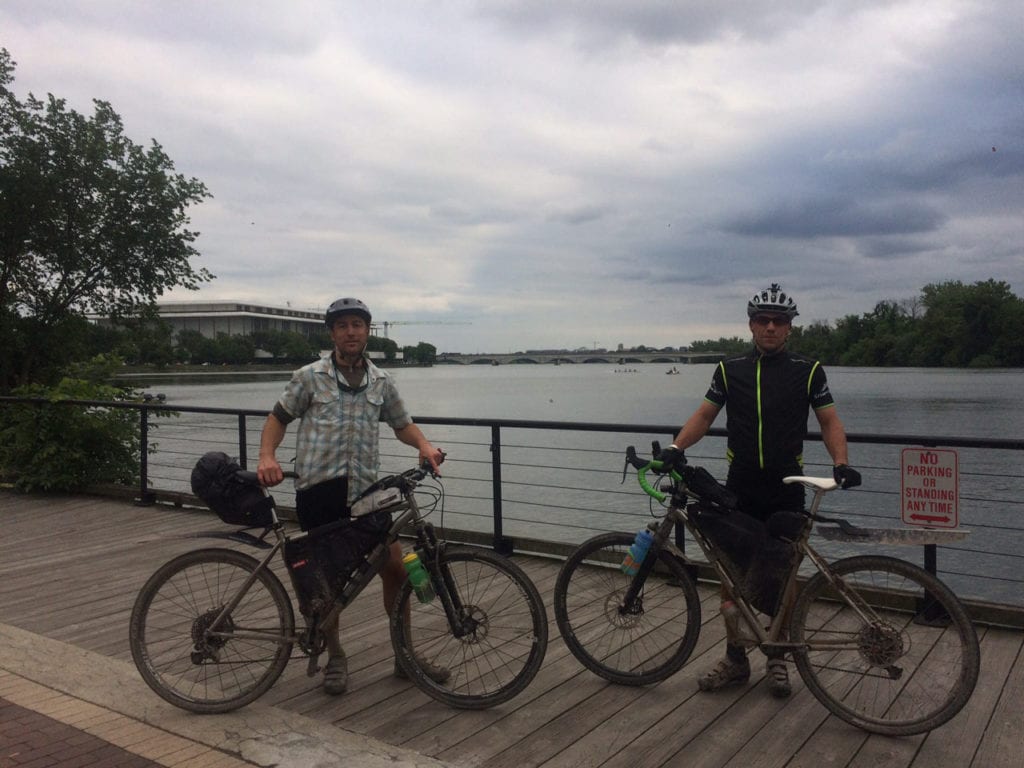 Would I do it again? Maybe. I could see doing it with my kid in a few years…taking a couple days to enjoy some of the cool stuff along the trail. I've been asked if it was even enjoyable. My response is this: I enjoyed two different sunrises and one sunset. I enjoyed people who had coolers in their yard offering up free water to the trail users. I enjoyed seeing people of all walks of life utilizing this tremendous trail resource. I enjoyed all the wildlife we saw. I enjoyed talking with the CSX worker who stopped to chat with us at 4:30 in the morning on his way to work. I enjoyed and appreciated all the volunteers/workers we saw who maintain the trail(s). I enjoyed all the different ecosystems we traveled through. I enjoyed the conversations I had with my riding partner. I enjoyed the cat nap I took alongside the trail (minus that one mosquito). And most of all…I enjoyed challenging myself.
Bottom line: get out there—challenge yourself. Try new things. Take 35 hours…or 7 days. Who cares. Do crazy shit. Your challenge doesn't have to be a 340 mile bike ride. It can be simply walking around the block because you haven't done it in over a decade. Do your part to keep this world moving in a positive direction.
-Rob
(click for full size)
[Links]
https://www.nps.gov/choh/index.htm